The highly-anticipated sci-fi movie Dune is finally here!
I've never read the Dune books and I've never seen the 1984 adaptation, but I've been excited about this movie since I saw the cast list and the trailer. One of my favorite actresses, Zendaya, in a gorgeous sci-fi movie with other A-list actors and lots of action and thrills? Sign me up.
I know it's controversial, because the movie deserves to make lots of money at the box office, but I watched Dune at home on HBO Max. As I'm currently pregnant, I'm trying to minimize the amount of times I go to the theater and I try to go to less crowded showings, which can be hard with movies like this (unless I wait about a month, which is what ended up happening with Shang-Chi). But at least I got to see it on our big screen TV, in 4K with a Bose sound system, comfy couch, and a tasty pizza. 🤷🏾‍♀️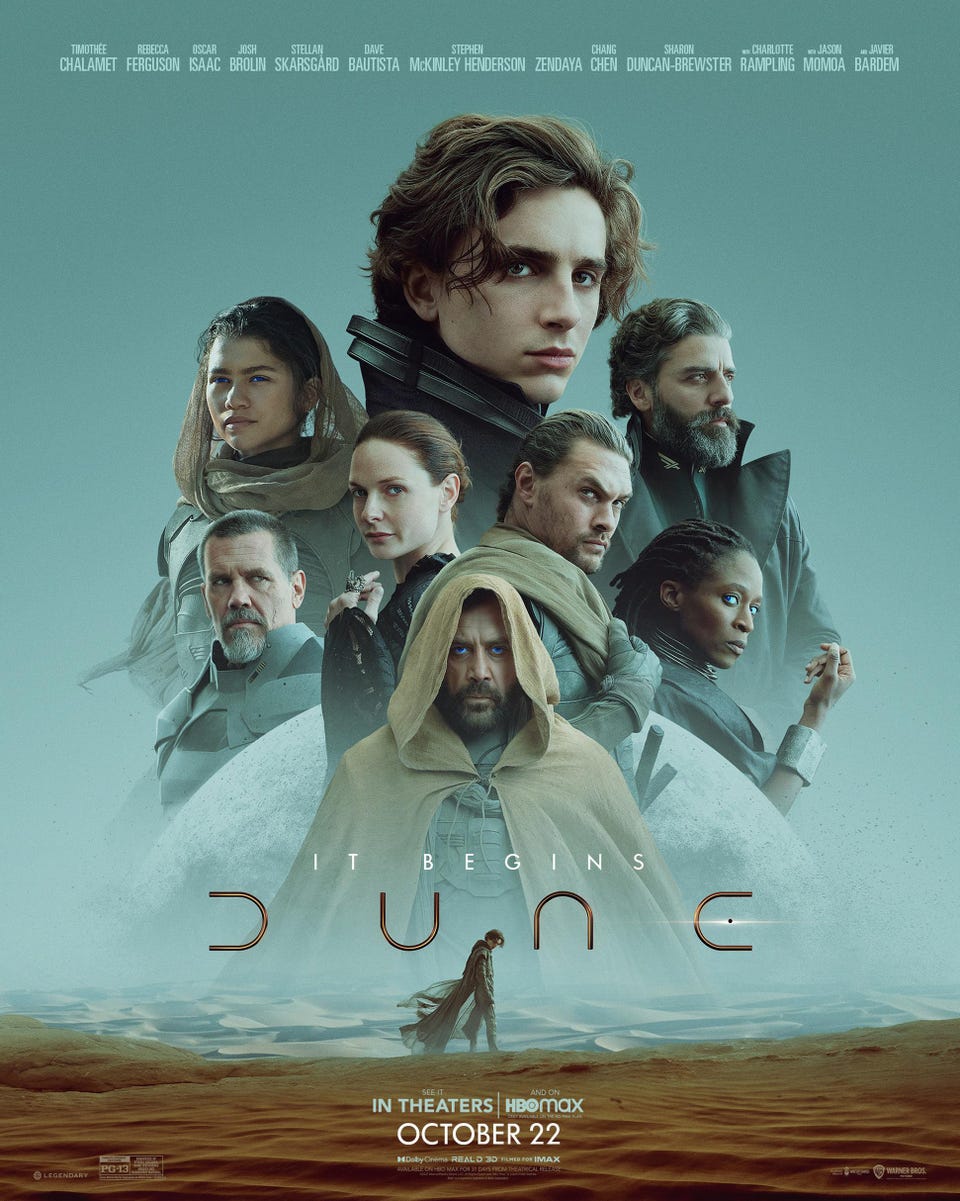 If you're like I was and have no idea what this movie is actually about, Dune is based on the novel by Frank Herbert, about a Duke appointed as the new ruler of a desert planet called Arrakis, which produces a natural substance known as "spice". We follow his son Paul, who at the same time is experiencing dreams and visions that he doesn't understand. This is apparently only part one of a planned series of films.
The movie was directed by Denis Villeneuve, who is of course famous for several films like Sicario, Arrival and Blade Runner 2049. It stars Timothée Chalamet, Oscar Isaac, Rebecca Ferguson, Zendaya, Jason Momoa, Josh Brolin, Javier Bardem, Dave Bautista, and Stellan Skarsgård. What a cast, right?! The movie also has a score by the legendary composer Hans Zimmer.
Dune is a visually stunning thrill ride! It's an epic story with interesting characters and wonderful performances by this ensemble of seasoned actors. Timothée's performance in particular impressed me, by how he was able to hold his own and command a presence in each scene. I was enthralled by it and I found it hard to take my eyes off of him in each scene. I had seen him in movies before and knew he was a great actor but this movie turned me into a fan. 🙌🏾
Don't expect to see lots of Zendaya though, if you're a fan. I didn't mind it, since I could tell this was setting up a storyline that she would be a bigger part of later on.
Movies like this have to do a lot of world-building to help us better understand the complex details of the story. I thought it was done very well here and it was surprisingly clear for someone like me who has no knowledge of the source material.
In the beginning I thought for sure the story would go over my head, but it didn't, as long as I had the captions on so I could read some of the words they were saying. I tend to understand complex details better when I do.
I don't really have any complaints about this movie! The vision sequences confused me a bit but I know that was intentional, since Paul doesn't fully understand them either.
The only thing negative thing I can really say is that I would've liked more context in some cases. For example, there's a twist in the movie you start to see coming, and then when it happens it's a bit underwhelming for how HUGE of a deal it turns out to be. I wish they had gave us a bit more context to make the reveal stronger. You'll understand what I mean once you've seen it. But this didn't take me out of the movie at all and I still enjoyed it. I just assume they had to cut a lot of context from the story to keep it from feeling too long and drawn out.
Overall I loved this movie! I think it's one of the best movies of the year and I'm really impressed by it. If you haven't seen it yet and you like sci-fi, I highly recommend it! I really hope we get as many sequels as it takes to tell the complete story, and that they do well at the box office.