25 of the best Christmas movies to stream on Netflix this year
With everything going on this year, I know so many people are down and out and not really feeling the holiday spirit. I'm one of those people. But something that always helps is to watch a few movies to lift your mood and escape, even if it's just for a couple of hours.
Netflix has plenty of holiday shows and movies on right now, so here's my list of some of the best movies to stream right now! (Ok, there are a couple of series in there too.)
Related: You should also check out my list of 15 Christmas rom coms to watch this year and this fun list of Christmas movie doormats guaranteed to put you in the holiday spirit!
1. Holidate
Holidate is perfect to kickoff the season of holiday movies when you're not quite in the holiday spirit just yet.
Emma Roberts and Luke Bracey star as two cynical people who meet and on a whim agree to be each other's date to several events, so they can enjoy the holidays without any romantic hassles or judgement from their families and friends. And of course along the way they fall for each other.
It's funny, has a great cast, and it's a bit vulgar…which is a nice change from some of those corny holiday romcoms. Don't get me wrong, I enjoy them, but Holidate is such a nice change of pace!
2. Jingle Jangle: A Christmas Journey
Jingle Jangle is a star-studded fantasy/musical movie for the family, about a toy maker who finds new hope when his bright young granddaughter appears on his doorstep decades after his apprentice betrays him. It stars Forest Whitaker, Phylicia Rashad, Keegan-Michael Key, Anika Noni Rose, and Ricky Martin.
3. Operation Christmas Drop
What originally drew me to watch Operation Christmas Drop was two actors that I adore, Kat Graham & Alexander Ludwig, in a cute little romcom about a congressional assistant and an Air Force captain who fall for each other while working together on a US Air Force base in Guam at Christmas.
Knowing that this was the plot, I did not expect to see a truly heartfelt story about giving to those less fortunate in the spirit of the holidays. This is a very sweet little movie guaranteed to get you into the holiday spirit if you're not really feeling it yet.
4. Dash & Lily
Dash & Lily is a cute little romcom mini-series about two teenagers who fall for each other while trading dares, dreams and desires in a notebook they pass back and forth at locations around New York City. It's based on the Dash & Lily's Book of Dares series by Rachel Cohn. It's such a unique and interesting take that you don't see very often. Can we get more book to mini-series adaptations, please???
5. The Princess Switch / Switched Again / Romancing the Star
These Vanessa Hudgens Christmas rom-com movies are not very good but are becoming somewhat of a tradition on Netflix, right? I enjoy them way more than I care to admit. 😄 This year, we get a second sequel with The Princess Switch: Romancing the Star.
6. Dolly Parton's Christmas on the Square
Dolly Parton's Christmas on the Square holiday musical starring the legendary Dolly Parton as an angel who guides a small town "Scrooge"on a musical journey of redemption. It was directed by the legendary choreographer Debbie Allen and also stars veteran actresses Christine Baranski and Jenifer Lewis. Besides the cast and director, this is probably worth watching just for the music and choreography alone.
7. Love Hard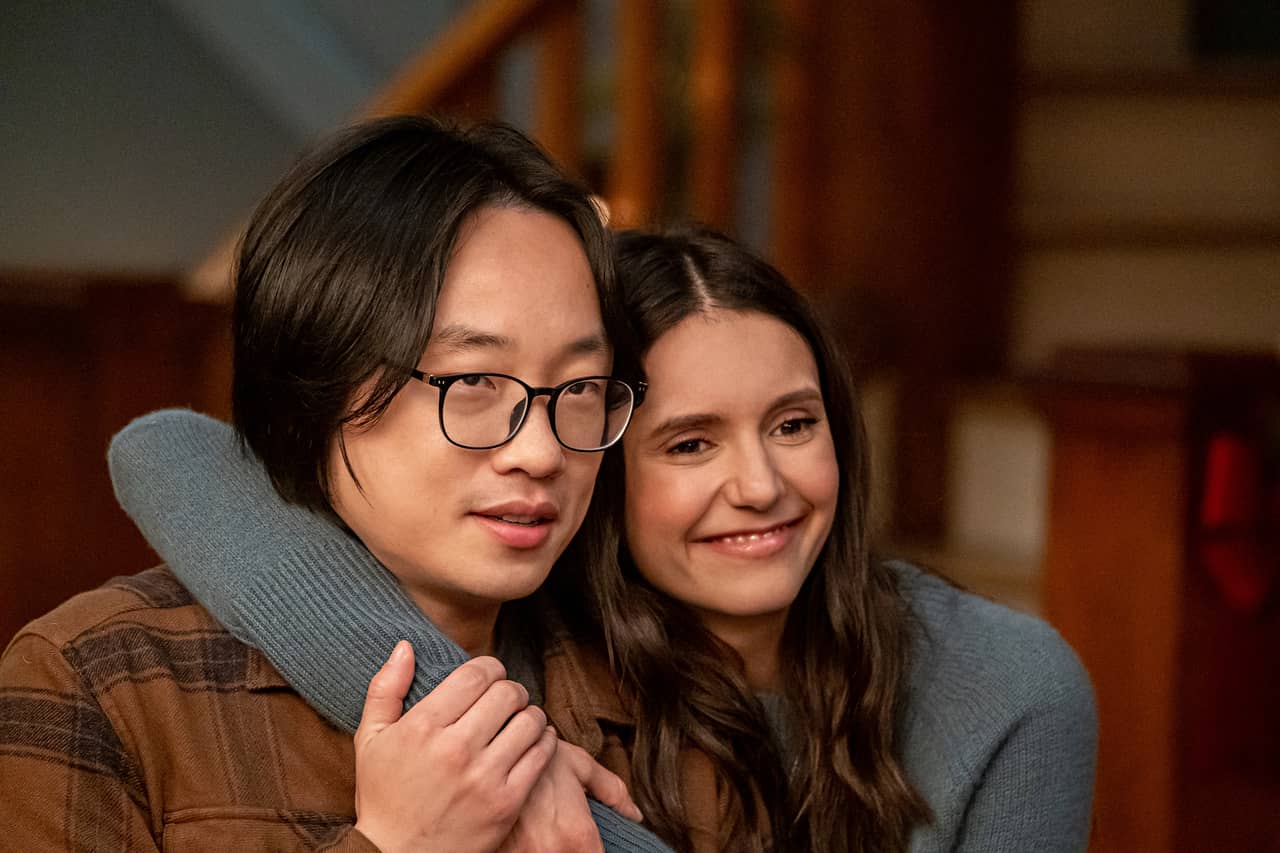 Brand new in 2021, Love Hard stars Nina Dobrev, Jimmy O. Yang and Darren Barnet. After meeting her perfect match on a dating app, an LA writer learns she's been catfished when she flies 3,000 miles to surprise him for Christmas.
8. A Christmas Prince / The Royal Wedding / The Royal Baby
In the lead up to Christmas, a young journalist is sent abroad to go undercover to get the scoop on a playboy prince who is destined to be king. You can also watch the sequels, The Royal Wedding & The Royal Baby, which continue the story.
9. Christmas Inheritance
Eliza Taylor, Jake Lacy, and Andie MacDowell star in this movie that follows heiress Ellen Langford who must deliver a special Christmas card to her dad's former partner in Snow Falls before she can inherit his business. When a snowstorm strands her at the town inn, she discovers the true gift of Christmas.
10. The Knight Before Christmas
Another Vanessa Hudgens Christmas rom-com! A medieval knight is transported to the present day, where he falls for a high school science teacher who's lost her belief in love. This movie is really cute and fun.
11. The Holiday Calendar
Kat Graham and Quincy Brown star in this cute rom-com about a struggling but talented photographer who inherits an antique holiday advent calendar, which seems to predict the future.
12. Let It Snow
Let It Snow has an all-star young cast including Isabela Merced, Shameik Moore, Odeya Rush, Liv Hewson, Kiernan Shipka, and Jacob Batalon. It follows a group of young people in a small town brought together on Christmas Eve by a snow storm.
13. Holiday Rush
Holiday Rush is a rom-com starring Romany Malco and Sonequa Martin-Green. After a widowed radio DJ is fired, he and his four spoiled children must leave their lives of luxury behind and move in with his aunt just before Christmas.
14. Home For Christmas
In this Norwegian comedy, a woman scrambles to get a boyfriend to bring home for Christmas Eve. No, it's not a movie, but it's only 2 seasons of 6 short episodes each. Fun fact: this show was Netflix's first Norwegian original series.
15. A Very Murry Christmas
If you're a fan of Bill Murray, check out his Christmas special A Very Murry Christmas! In it, Bill rounds up an all-star cast for an evening of music and mischief this twist on holiday variety shows.
16. Pee-Wee's Big Holiday
The beloved character Pee Wee Herman is back for another adventure in Pee Wee's Big Holiday. After meeting Joe Manganiello, Pee Wee Herman leaves his hometown and goes on the first holiday of his life to New York to celebrate Joe's birthday party, before getting caught up in wacky hijinks and trouble as he travels across the country.
17. The Christmas Chronicles / The Christmas Chronicles 2
The Christmas Chronicles follows siblings Kate and Teddy Pierce who hatch a scheme to capture Santa Claus on Christmas Eve. When the plan goes awry, the kids join forces with a somewhat jolly Saint Nick and his loyal elves to save the holiday before it's too late. In The Christmas Chronicles 2, Kate is reunited with Santa Claus when a troublemaker threatens to cancel Christmas forever.
18. Holiday in the Wild
Rob Lowe and Kristin Davis star in this rom-com about a woman who embarks on a solo second honeymoon in Africa where she finds both purpose and romance.
19. Father Christmas is Back
Watch what happens when four feuding sisters clash after their long-lost father shows up for Christmas at their family get together. This British comedy stars Elizabeth Hurley, John Cleese, and Kelsey Grammar, who are all very famous actors, yet I'm sure most people have never heard of it.
20. Merry Happy Whatever
Merry Happy Whatever is another title on the list that is not a movie, but it's only 1 season. Dennis Quaid, Ashley Tisdale, and Bridgit Mendler all star in this quaint sitcom about an overprotective father and his tight-knit family around the holidays.
Non-original Netflix Christmas Movies
The Holiday
White Christmas
Unaccompanied Minors
A Very Harold & Kumar Christmas
Christmas Survival
---
What are some of your favorite Netflix Christmas movies?