Season 9 of The Walking Dead is coming very soon, and as we all know, this will be Andrew Lincoln's last season playing Rick Grimes. 🙁 I'm so torn up about losing one of my favorite characters, and I'm nostalgic about all of the awesome moments we've had both on and off the show, but I'm also happy that Andy gets to spend more time with his family like he wanted. It's such a bittersweet feeling. I'm still not sure how I'm gonna make it through his last episode and Talking Dead sendoff when it comes.
If you saw my last supply drop post, you know that I was really impressed with it. I loved everything in that box and I was really excited for the next one. Well I finally got my Fall 2018 box, and this one has a beach theme — which I find funny, since we're getting these at the end of the summer. 🙃 Check out what I got:
Shiva Funko Pop – This Funko Pop is really cute, and although I don't really collect Pops, I might have to keep this one. Apparently these are a Supply Drop exclusive and can't be bought anywhere else — I checked eBay and these are currently selling for $60+ each!
Beach Towel – This beach towel is really nice, and I plan on using it the next time I go to the beach! It has each of the character's weapons on it — Rick's Colt Python, Michonne's katana, Daryl's crossbow, Negan's Lucille, a hatchet, and a machete (?).
Flip Flops – I remember getting an email from the Supply Drop folks, asking me to confirm my shoe size for these flip flops. It's a weird addition to the box but I guess they're pretty nice.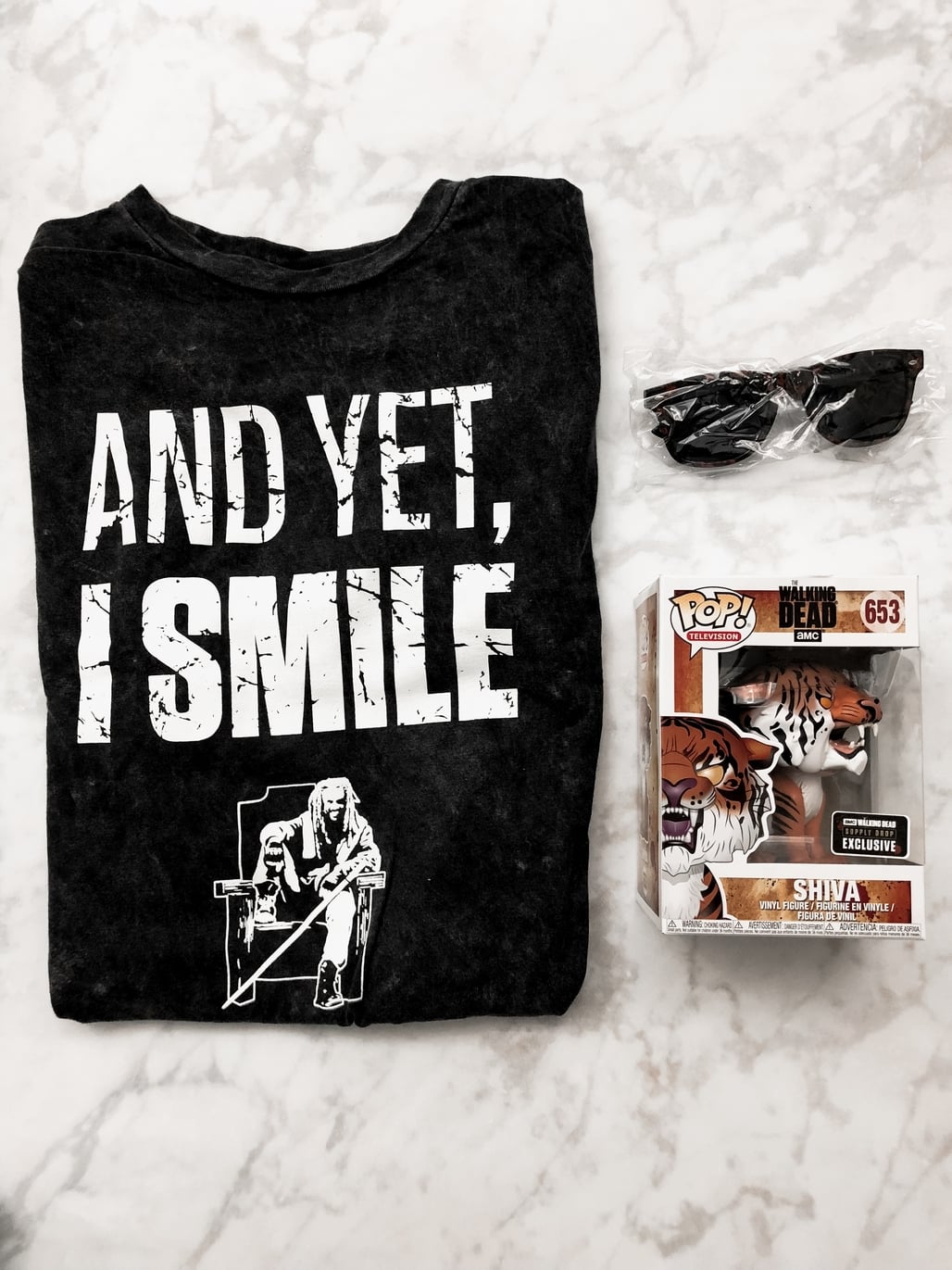 Sunglasses – My first thought was, "How old are we???" but I suppose kids get these boxes too. They are sunglasses with blood splatters on the front of the frames and little zombie heads down the sides. I rolled my eyes at first but I guess they're kinda cute. I'll keep them.
Daryl Wings USB Drive – This USB drive is really, really nice. It's a silver USB drive in the shape of the wings on the back of Daryl's vest. It's pretty and it has a nice weight to it, like you could use it as a small paperweight on your desk or just set it out as decor in your house. It comes in a really nice case too, with Daryl, Rick, and Michonne on it. I don't really have a use for it (I don't even remember the last time I used a USB drive), but it's a really nice collectible.
Oceanside Beach Bag – Ok, I love this little Oceanside bag! It's a dark blue drawstring shoulder bag with the words "Oceanside Cabin Motor Court" on it. It's small, so you can't put everything in it, but I could use it to put my keys and wallet inside. I love stuff like this that's more subtle; something that only other fans would recognize.
King Ezekiel T-Shirt – I haven't really been that impressed with any of the t-shirts so far (although I do like the Shiva t-shirt), and this one is no different. Maybe I'm a t-shirt snob? I don't know. I like Zeke but I don't see myself wearing this to anywhere but the gym. 🤷🏾‍♀️
---
Overall a pretty decent box, but it doesn't compare to the last two! I've got a few things saved up from these boxes that I don't really want, so I plan on doing a giveaway soon to celebrate season 9. Keep checking back for more info!