It's 2019! Last year was a really good (and long) year for movies. We got so many awesome movies and I'm so excited for all that's coming this year! To kickoff the new year, I've put together a list of movies that I'm excited to see. Of course, dates change so some of these may not make it out this year but I hope they all do.
The first 5 are the ones that I'm super excited about, but I'm excited for the others as well. I've listed more below that I'm psyched about, but that didn't make my top 10 for whatever reason — mostly either because of an underwhelming trailer (*cough* Hellboy and MIB: International) or because a trailer hasn't even dropped yet. And some of them just haven't really started promoting yet. Here we go!
1. Avengers: Endgame (April 26)
Of course, I'm most excited for what will surely be the biggest movie of the year, Avengers: Endgame! I don't want it all to end or find out who will die, and I know I'll cry my eyes out but I'm so ready.
2. Us (March 15)
I was already excited based on the casting alone (Lupita Nyong'o + Winston Duke), but this movie jumped to nearly the top of my list after the amazing trailer dropped on Christmas day! I LOVED Get Out and I'm so excited to see Jordan Peele's next creation. I'm a huge horror fan and I can already tell this is gonna be so much fun to watch.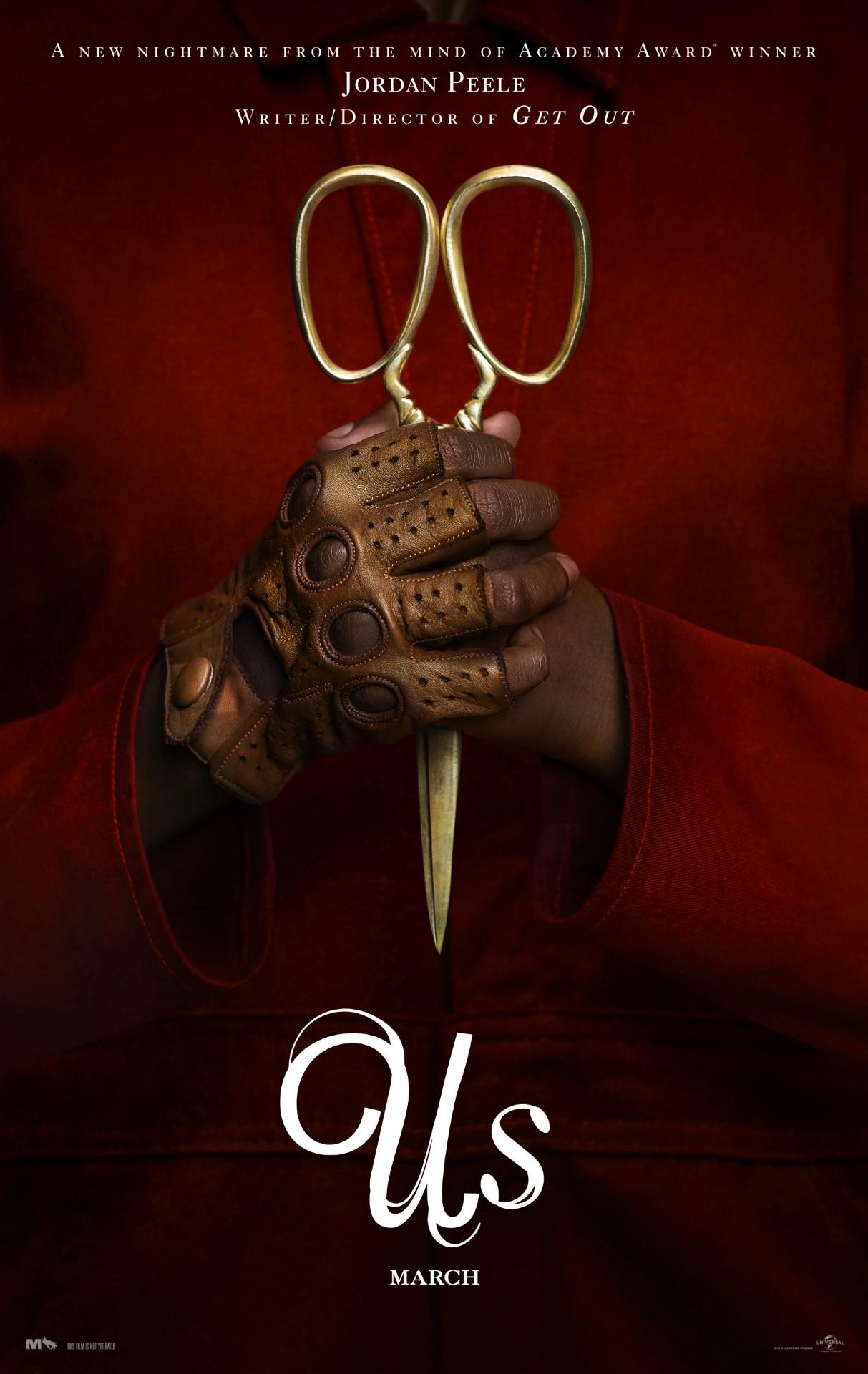 3. Spider-Man: Far From Home (July 5)
Homecoming was such a cute movie! I loved everything about it — the cast, the humor, the characters, the story. It'll be interesting though, to see how this movie fits in with the Avengers story. I'm a huge fan of Tom Holland and Zendaya and I've heard they might have a little romance in this next one so I'm just really really excited.
4. Captain Marvel (March 8)
Of course, I'm super excited for the MCU's first solo female film! I can't wait to get to know the newest character and get a peak at how she'll fit into the story for Endgame. Admittedly, the trailer does look a bit dry (I need more fun stuff and more 90's pop culture references please). But I already know Brie Larson, Samuel L. Jackson, and Lashana Lynch will kill it no matter what.
5. To All the Boys I've Loved Before 2
After months and months of waiting, they finally announced that TATBILB 2 is coming! It's supposed to come out this year, I'm assuming in the winter if it completes in time (wouldn't be surprised if it got pushed to early 2020 though). As you know, I love this book series so much and the first movie was amazing. I can't wait to see what they do with the 2nd movie! (Enter John Ambrose McClaren 😁)
P.S. – Check out my free printable TATBILB inspired bookmarks!
6. IT: Chapter Two (September 6)
IT was one of my favorite movies of 2017. It was so much fun and I loved the cast of those cute and funny kids. I'm ready for more, but I'm not sure if they can recreate the magic with the characters as adults. We'll see!
7. The Lion King (July 19)
The Lion King is my favorite animated Disney movie of all time and I still get so sad about Mufasa's death when I watch it. So I'll be at the theater for this one on opening day with but a box of tissues ready.
8. Terminator 6 (November 1)
I hesitated to put this one on my list because I've been burned by the Terminator franchise so many times in the past. These movies really haven't been good since Terminator 2 back in 1991 (my personal favorite) and they just seem to get worse and worse. But I'm a HUGE fan and I like the direction they seem to be going in, so I'm really rooting for this one to be good.
9. Scary Stories to Tell in the Dark (August 9)
These books were some of my favorites as a kid, and I still have one of my original copies on my shelf now. I loved looking at all of the creepy illustrations and reading the stories over and over, and it's probably part of the reason why I'm so in love with the horror genre now. 😀 I just really hope they do this one justice, which will be really hard if they try to market it to both kids and adults.
10. The New Mutants (August 2)
This movie is combining horror/thriller and superhero elements and I'm so excited. I liked the trailer and the casting looks really good! I don't know anything about this from the comics so it'll be new to me.
Other movies I wanna see
The Walking Dead (spinoff movie) – I have no clue when the first of these movies is coming out, but I'm listing it here in hopes that it comes in 2019!
The Sun is Also a Star – I haven't read this book yet but….Yara Shahidi and Charles Melton in a romance film together? Yes.
The Woman in the Window – I'm currently reading this book and I'm so excited to see it come to life. Amy Adams was FANTASTIC in Sharp Objects, and I'm shocked that the show didn't get more attention and accolades than it did. It was creepy, suspenseful, and so emotional, and of course the acting was top notch. I'm really hoping for something like that with TWITW, and I'm hoping it doesn't turn out to be half-baked like the 2016 adaptation for The Girl on the Train. 😑
Shazam! – This looks sooo cute. I lost faith in most of DC's movies but they're starting to win it back with movies like Wonder Woman and Aquaman. I hope this will be just as good as those.
Pet Sematary – I confess that I've never read the book or seen the original movie. 😬But since I'm a horror fan I'll be seeing this for sure. I'll at least try to watch the original first though so I have something to compare it to.
Dumbo – It's been so many years since I saw the original Dumbo! This is yet another movie that I'll need to bring a box of tissues for. And of course I'm totally down to check out Tim Burton's next creation.
Alita: Battle Angel – I'm kinda bitter that they didn't choose Lana Condor for the main role, especially since she's kicking ass on Deadly Class. But at least she's still in it. I'll be seeing it.
Aladdin – After that goofy looking EW cover, I'm really not sure about this one. But I'll give it a shot.
Hellboy – The first trailer for this doesn't look so good, and it just makes me want to re-watch the original movies.
Men In Black: International – This trailer was sooo underwhelming. I love Chris Hemsworth and Tess Thompson together though so I hope they can make it work.
Charlie's Angels – I'm not sure how this will work but I love that Kristen Stewart is in it. Also I love Noah Centineo, and will probably be seeing this for him alone. Fun fact: Lupita Nyong'o was attached to this project at one point. I'm really sad that she won't be in it since she's one of my fave actresses.
Child's Play – I was SO scared of the original movie when I was a little kid. lol. I hope that for this movie they return to the dark feel of the original movie.
Godzilla: King of the Monsters – I'm not really too impressed by these MonsterVerse movies but at least they're fun to watch.
Are you afraid of the dark? – I'm not sure if this'll actually come out this year but AYAOTD was one of my favorite shows when I was a kid!
X-men: Dark Phoenix – The trailer reaction to this one was so polarizing but I think it looks pretty good. I said the same thing about Apocalypse though, so there's that. At least I get to see this awesome cast again.
Zombieland 2 – I'm still shocked this is actually coming! I loved the first movie so much and I'm psyched that they got everyone back together.
Which movies are you excited for this year?